What is IMD?
The Index of Multiple Deprivation (IMD) from the Indices of Deprivation (IoD) suite is the official measure of relative deprivation across England. Deprivation is measured in a broad way to encompass a wide range of aspects of an individual's living conditions.
The IoD provides a set of relative measures of deprivation for small areas across England, based on seven different domains of deprivation. Each of the domains are constructed from a basket of different datasets or indicators. Combining information from the seven domains produces an overall relative measure of deprivation, the Index of Multiple Deprivation (IMD) which is the most widely used of the IoD. They are combined with the following weights:
Income Deprivation (22.5%)
Employment Deprivation (22.5%)
Education, Skills and Training Deprivation (13.5%)
Health Deprivation and Disability (13.5%)
Crime (9.3%)
Barriers to Housing and Services (9.3%)
Living Environment Deprivation (9.3%)
As far as is possible, each indicator is based on data from the most recent time point available. For the Income Deprivation domain and the Employment Deprivation domain in the IoD 2019 (the latest release), the data relates to the tax year 2015/16.
In addition to the seven domain-level indices, there are two supplementary indices:
the Income Deprivation Affecting Children Index (IDACI) and
the Income Deprivation Affecting Older People Index (IDAOPI)
These are created as subsets from the Income Deprivation domain.
There are substantial health inequalities between people from different deprivation groups, which you can explore more at https://fingertips.phe.org.uk/profile/inequality-tools.
The Bolton picture
IMD is calculated for small areas (Lower Super Output Areas - LSOAs) and there are a number of ways of combining this to larger geographies such as local authority areas. The two most commonly used methods are 'rank of average scores' and 'rank of average ranks'. The main difference is that more deprived LSOAs tend to have more 'extreme' scores than ranks. So highly deprived areas will not tend to average out to the same extent as when using ranks; highly polarised areas will therefore tend to score higher on the average score measure than on the average rank. Here we have used the rank of average scores.
Regarding the IMD rankings 1 is always the most deprived
Bolton is ranked the 34th most deprived local authority in the country (out of 317)
Within Greater Manchester, Bolton is around average for the conurbation
Bolton was ranked the 46th most deprived authority on the 2015 IMD and 34th on the 2010 IMD, and so relatively Bolton has become more deprived since 2015. Because IMD is relative, a lower rank doesn't necessarily mean things have got worse in real life, they may just not have improved at the same rate as other areas around them
Where geographies have changed between years, measures have been recalculated to 2019 boundaries
According to IMD (2015), Bolton is ranked 64th out of 326 local authorities in England for deprivation. In comparison to other Greater Manchester authorities, Bolton ranks slightly higher, i.e. less deprived, than Manchester, Rochdale, Salford, Tameside and Oldham. However, Bolton is also ranked much lower than Bury, Trafford and Stockport.
| Local Authority District name (2019) | IMD - rank of average score |
| --- | --- |
| Manchester | 6 |
| Rochdale | 15 |
| Salford | 18 |
| Oldhan | 19 |
| Tameside | 28 |
| Bolton | 34 |
| Wigan | 75 |
| Bury | 95 |
| Stockport | 130 |
| Trafford | 191 |
The IMD ranks every LSOA (Lower Super Output Area, a small administrative goegraphy) in England from 1 (most deprived area) to 32,844 (least deprived area). It is common to describe how relatively deprived a small area is by saying whether it falls among the most deprived 10 per cent, 20 per cent or 30 per cent of small areas in England (although there is no definitive cut-off at which an area is described as 'deprived').
Using 2019 LSOA population estimates, 25% of the Bolton population live in an area that is among the 10% most deprived nationally, while 56% of the population live in an area that is among the 30% most deprived nationally.
Compared to the overall measure, Bolton ranks relatively worse for income (29), employment (36), and particularly crime (13). The authority ranks notably better for barriers to housing and services (285)
The rank of health deprivation and disability currently stands at 50, whereas Bolton previously ranked worse in 2015 (35)
Of Bolton's LSOAs (neighbourhoods) 42 (23.7%) rank within the 10% most deprived areas in the country. From the 2015 IMD, Bolton had 36 (20.3%) LSOA's within the 10% most deprived areas in the country
There have been few changes regarding our most deprived neighbourhoods and deprivation remains at its greatest in the Wards of Halliwell, Crompton, Breightmet, Great Lever, Rumworth, and Farnworth, with pockets outside the town centre identifying Johnson Fold and Washacre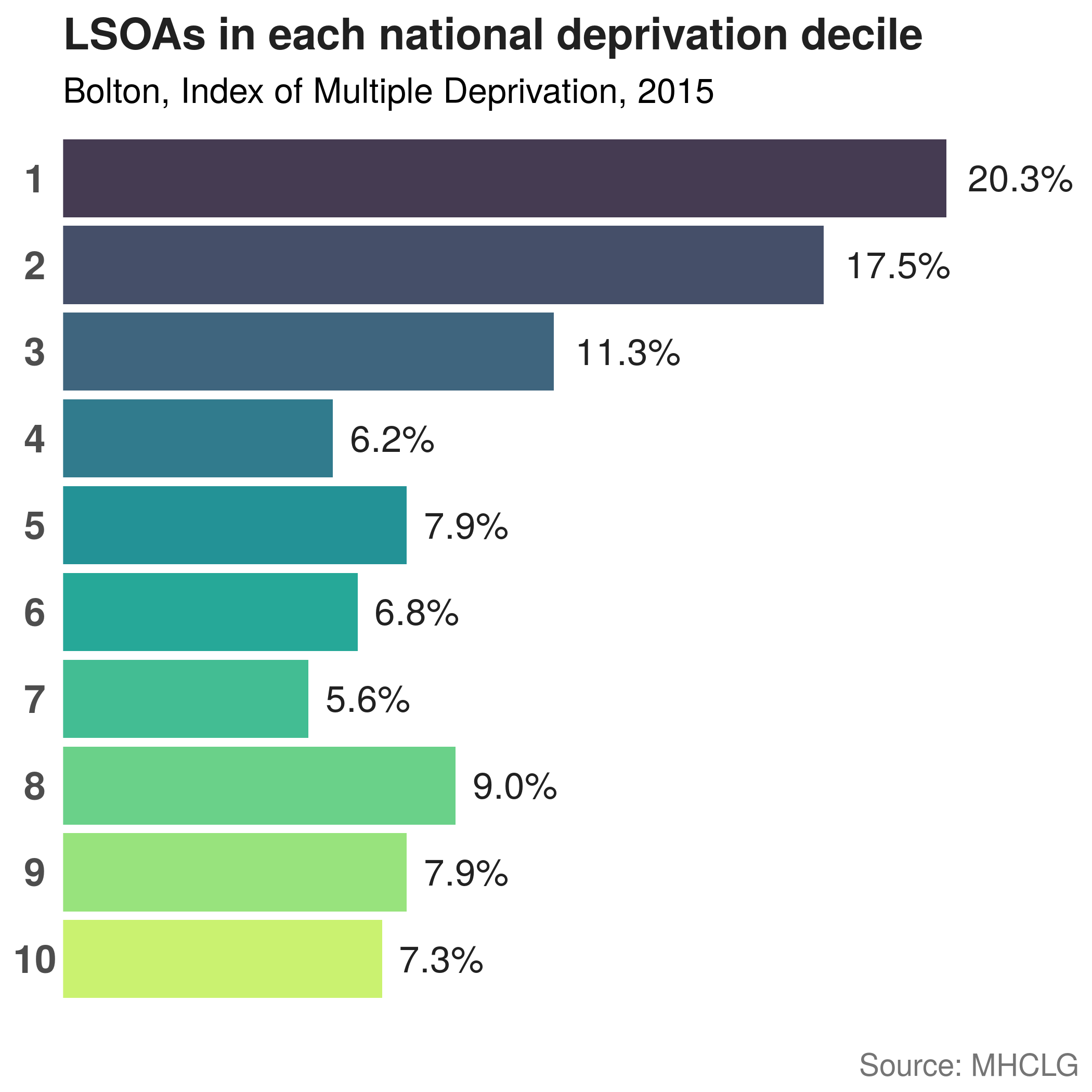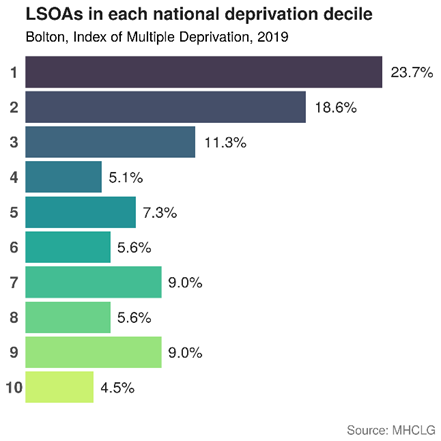 Explore more
There are a number of interactive tools to explore IMD. Here of some of those we've found most useful.
Get the data